Good shoes, like wine, get better over time. Keeping them clean and well maintained is a true demonstration of style and sophistication.
I have been passionate about shoes since I was a teenager. During my youth in Paris, I discovered brands and models that I still wear today. At that time, wearing good shoes was one of the things that allowed us to assert our belonging to a closed circle that most of my friends wished to belong to.
I remember my first visit, with a friend, to the JM Weston boutique on the avenue des Champs Elysées. We were assisted by a salesman on the first floor. The shoehorn that allowed me to put my foot in the shoe did not prevent the pain I was feeling due to the hardness of the new skin. My feet were used to wearing tennis shoes.
When I got up to take my first steps, the crisp new sole slid across the store carpets. I almost fell !
I had chosen a model that I knew to be a safe bet and very suitable to start with, the Weston brown moccasin, more comfortable than the derbies or oxfords that I discovered later.
I already knew that I should also buy original shoe trees. I took the opportunity to add the brand's shoe polish and cream. I had broken my piggy bank to fully live the experience…
The store had all kinds of accessories, and I would come back to buy later. The polishing brush, the chamois leather to properly maintain these small works of art for which I had spent all my savings.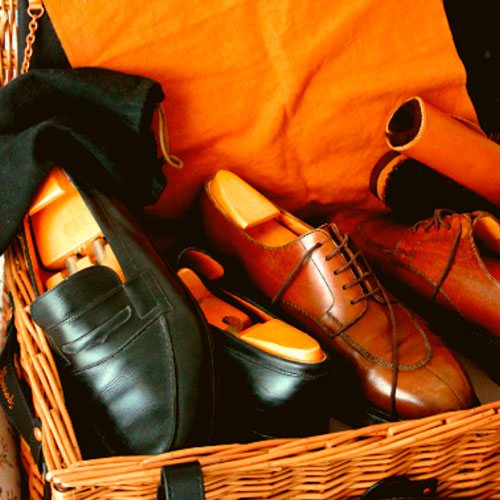 With this first pair of shoes I realized that the right shoes are not a status symbol. Shoes made with care and with noble materials are part of a lifestyle in which things are not just an object, but are the companions of our life and sometimes of all life.
The secret to the longevity of a pair of shoes lies in the quality of the materials and the good workmanship which allows their repair and maintenance. In fact, if you know how to take care of them, they will last a lifetime.
I have always loved the smell of leather and shoe polish, touching the clean leather of a freshly cleaned shoe. Look at the small cracks on the surface, the shine of the tip, the variations in color produced over the years, and the different shades of creams that have been applied.
Later, I was lucky enough to be able to visit shoe factories and watch real artisans bring these works of art to life. Their handling of subjects and the tools they used are etched in my memory. Also the smells of leather and glue, machine grease are still present when I look at a window.
I don't remember the prices at the time (they were in Francs), but the price of some good classic leather shoes that can last 20 years does not drop below 300 €. You can find Italian or British brands with style and quality that revolve around these prices. Underneath, unless it's on sale, I wouldn't dare hope for longevity.
The price today is around 450 € or 500 €.
For the most exclusive brands, this price can go up to € 750 or € 800 (John Lobb, Edward Green, Berlutti, etc.), not to mention made-to-measure shoes.
To give you an idea, the classic JM Weston and Church`s models are between 450 € and 650 € and the Crockett & Jones are around 450/500 €
Like I said, we are talking about shoes that can last a lifetime. Prince Charles of England wears shoes made in the 1970s. For this they must be used and maintained properly.
The first piece of advice is not to wear the same pair of shoes two days in a row. You have to let the skin dry and recover. For this, it is essential to use raw wood shoe trees, so that it can absorb the sweat of the day while maintaining the shape of the shoe.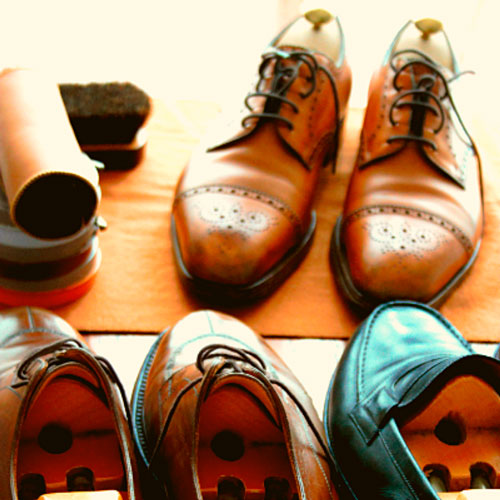 After use, it is necessary to clean the shoe, to remove all impurities from dust to mud that may have settled there. I choose to use an inexpensive supermarket-bought moisturizer normally used for the body. I start by removing the dirt and continue by applying the cleansing milk. The idea is to remove even the shoe polish and thus leave the leather in its raw state in order to be able to apply moisturizing milk and thus prevent it from deteriorating over time. You will need to use a cotton cloth.
To check that you have removed all the wax from previous cleaning sessions, you can wipe with a clean cloth with colorless cream. If it does not stain the color of the shoe, it means that the skin is already clean.
The skin must be hydrated so that it remains supple and withstands the passage of time. You can use a colored moisturizer that is sold in brand name stores and it is slightly darker than the skin of the shoe.
It is applied in small doses over the entire surface, not forgetting the sole, toe and heel.
If you want a little more shine, once the cream has been applied to the entire shoe, you can wipe the cotton cloth again with a little water. Insist on the folds, and be careful not to apply too much cream.
"I realized that good shoes are not a status symbol"
Wait 15 minutes for the cream to dry, brush to remove any remaining cream and shine the shoes. The shoe polish does not penetrate into the leather, it only serves to give it a shiny and colorful appearance (you can vary the colors).
Be careful not to use too much shoe polish, which could "burn" the skin.
Remember that it is the moisturizer that will nourish and protect your shoes.
The shoes should be cleaned twice a month, but this may change depending on the frequency of use.
Always use raw wood shoe trees.
Wooden shoe trees are often expensive, but they are absolutely essential. It is becoming more and more difficult to find them. You can watch Vinted, there are usually some good opportunities.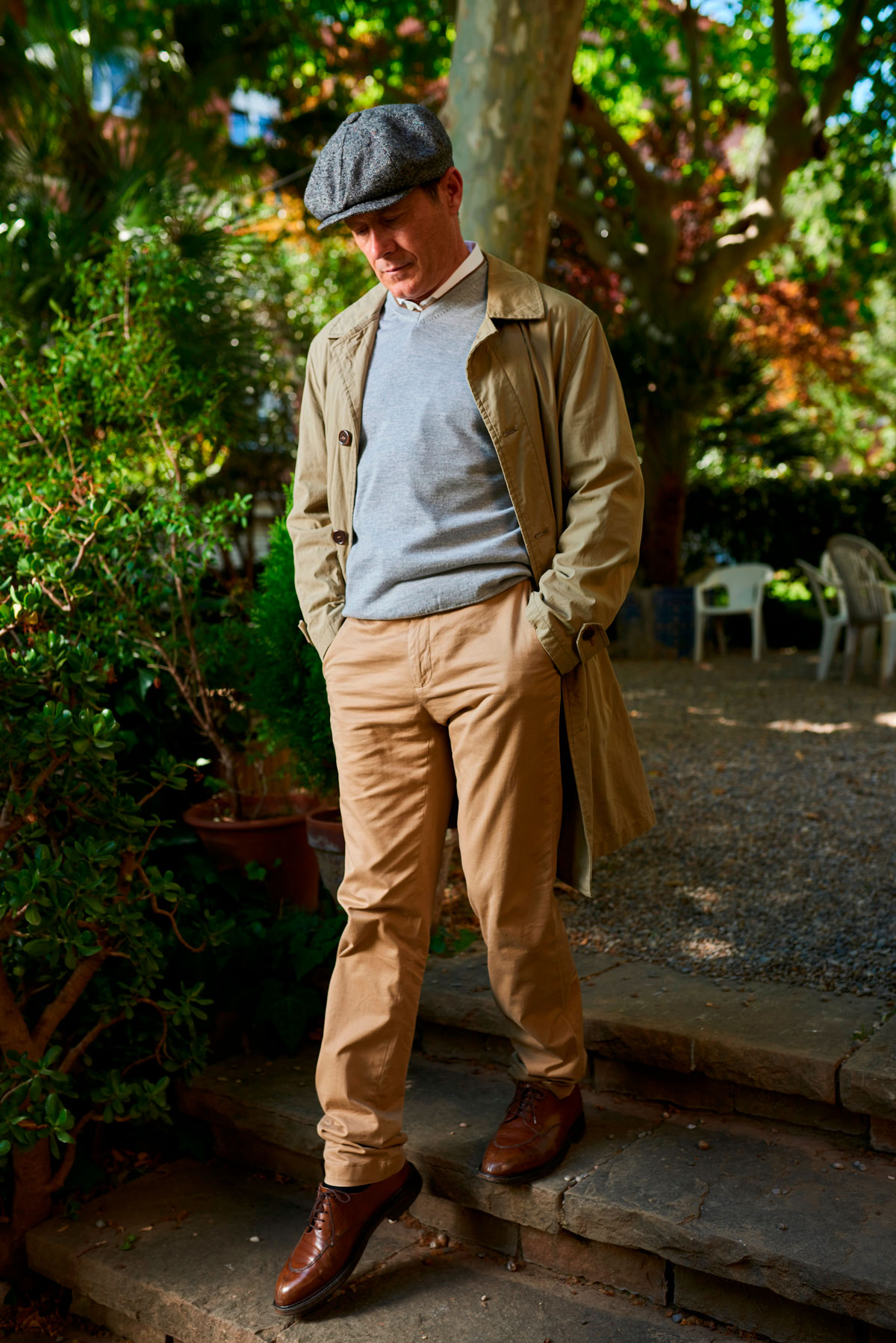 In the photo, Guillermo has the "Peaky Blinders" look with his "demi-hunting" from 25 years ago and our Bonifacio in gray.
Day on the golf course… with our Ajaccio Camel, a polo shirt and good Botticelli shoes with leather soles.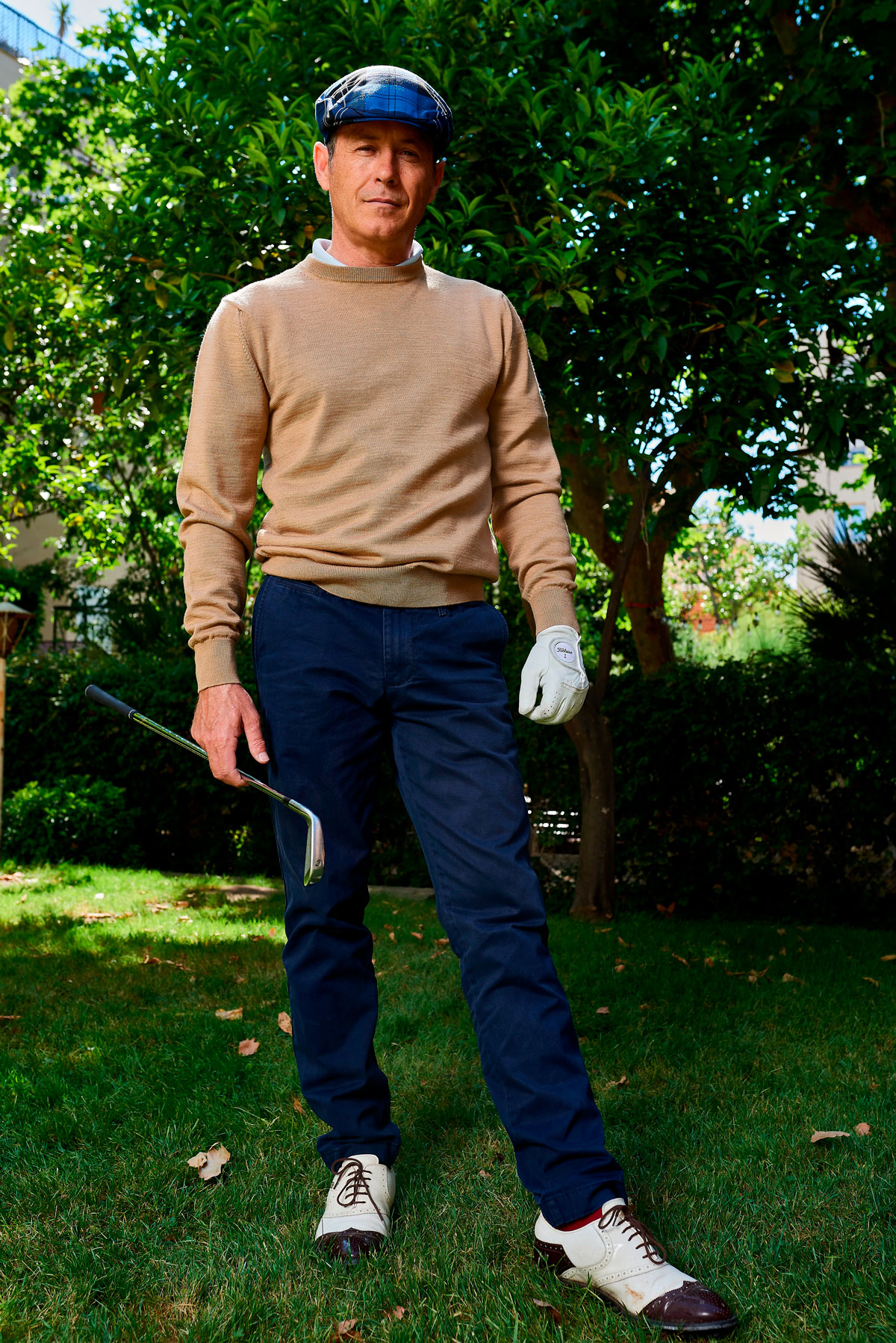 I have a preference for brown models, less elegant but more stylish. The reflections on the leather remind me of precious woods.
My favorite models are JM Weston's "half-hunting" and "Golf". They can be worn with chinos, a pretty button-down shirt and one of our merino wool sweaters,  Ajaccio or Bonifacio.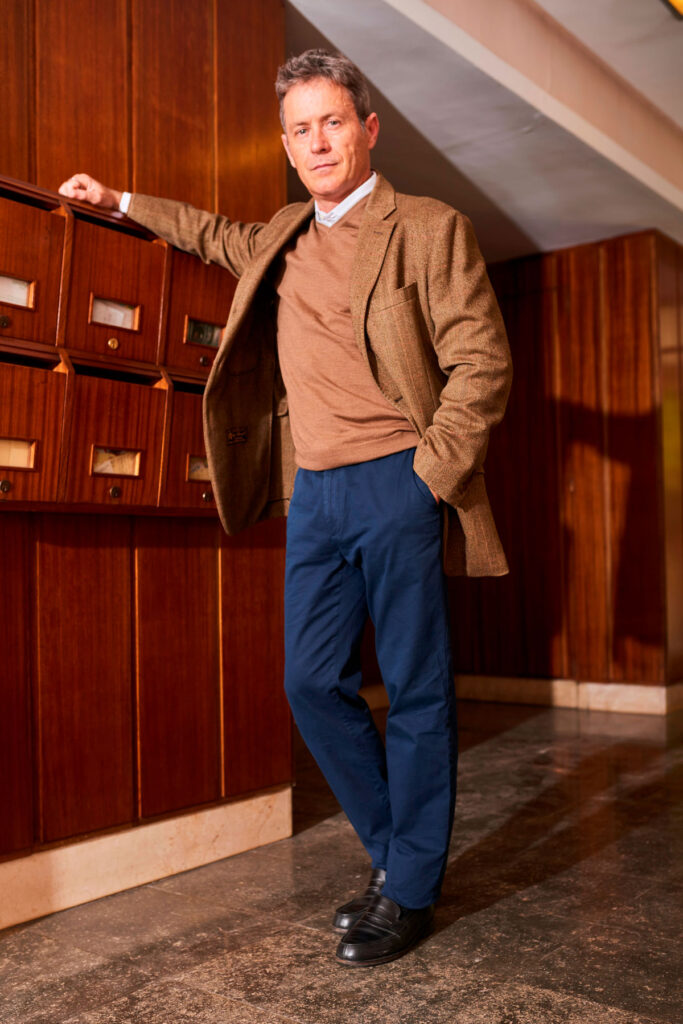 Casual look with a tweed jacket and a brown Bonifacio sweater over a button down shirt. To complete the look, classic JM Weston loafers.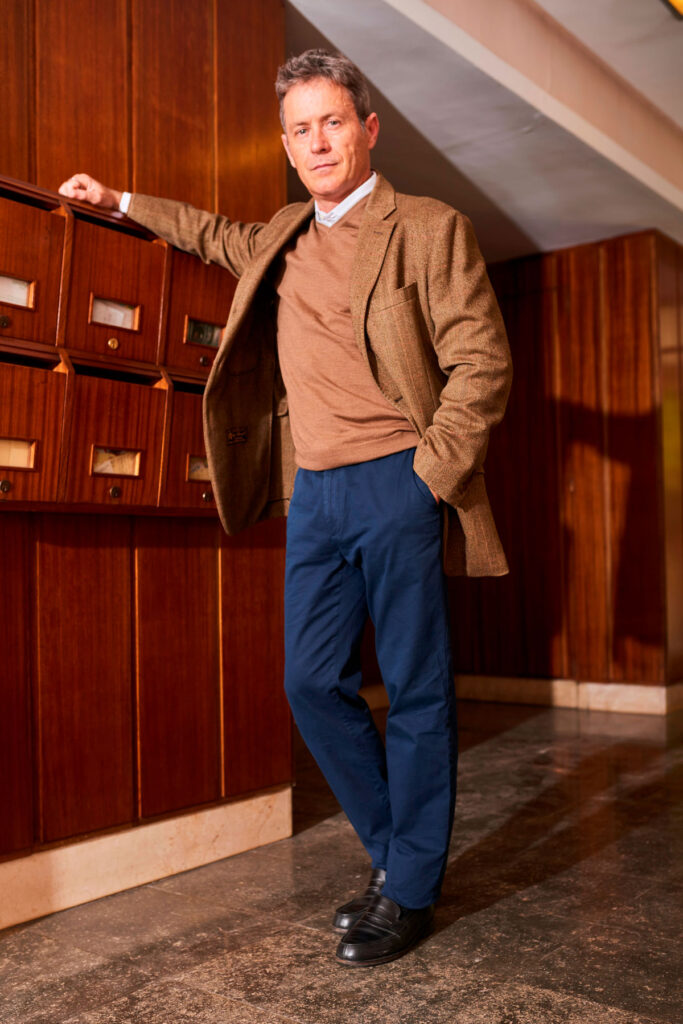 Casual look with a tweed jacket and a brown Bonifacio sweater over a button down shirt. To complete the look, classic JM Weston loafers.
If we make sustainable products, it is to rediscover this taste for well-made materials and objects, which we never want to part with.